We have started learning about division this week in 4th grade. Before I share what we have been working on this week, let me direct you to: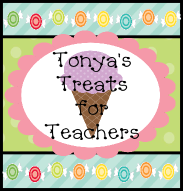 which is a
GREAT
resource for math (and other things!!), and where most of my activities came from.
First off, we started talking about what division was. We made a web of the different strategies we could use to solve division problems, and put them in our notebooks.
Our Web/Map that we created
Notebook Entry
After we talked about the strategies we could use, I gave each student a division fact, and they had to create a map showing the 4 ways they could solve the problem.
I showed them an example...although I didn't do the whole array or groupings


They did this on a half sheet of paper, and added into their notebooks, opposite the map so they had an example (and gave me a chance to see who understands it!)
We then talked about the different vocab words that will pop up while working on division-dividend, divisor, quotient. We used a foldable from
Fun in 4B's Division Lapbook
to add to our notebooks (sorry, no picture...I forgot to take one today!)
Fact Families were up next, and we discussed how the fact family can help you figure our the answer to a division problem.
This is where the fun starts! (and my original idea of the whole thing ;). I gave the kids a triangle flashcard (you know the ones I'm talking about!). I had them pick one side to write the fact family for, and then draw a picture and hide the numbers in their picture.
For the other side of the flashcard, they just created a picture with the numbers hidden in them. They then had to share it with a friend, to see if they could find the numbers, and say all the facts that went with that family.
Two of my favorites...so creative!
They LOVED this. They got so creative with trying to hide the numbers, and really did a nice job. It also reinforced the fact family practice and what they stand for.
Yesterday's Outfit(s)
Purple Sweater: Kohls
White Sweater: NY & Co
Tank: Target
Pants: JCPenny
Shoes: TJ Maxx
Again, it was warmer in school than I thought it would be, so I layered my sweaters...glad I did, because the purple one was on and off all day.
Those shoes are ones I got while waiting to meet my co-worker/friend for dinner. She had said she was going to be late, so I hopped over to TJ Maxx to see what I could find...only to find these cute shoes!
(and I wound up being late...she turned out to be on time and I had to check out!)
So pretty and gold and sparkly...with a low heel! :D
Today's Outfit
Top Half: JCPenny
Pants: Gap Outlet
Shoes: Endless
I had a 504 meeting right after school today-so I was a little dressier with the accessories than I normally am. Fortunately, it went quickly and well (under 20 minutes!), and I know that for the future, this kid will get everything he needs to succeed (I like to set them up in my year, because not everyone gives all the accommodations that I do, and I always want them in place before they go to the middle school.)
Have a wonderful (warm!) weekend!!
Smiles and Sunshine,
Kaitlyn