Happy Wednesday!
Time for another Workshop Wednesday with Jivey!
Now, I do have this that came with the pilot: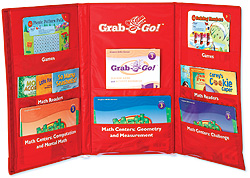 as well as a
huge
selection of manipulatives (although for some things I still don't have a class set-like thousands cubes).
Notice how the title of the kit is Grab and Go?
Yeah, not really. : /
It is more like plan it out, teach the kids, make the copies, then if you have time the kids can grab and go (oh, BUT! most of the games are partner games and there is only one copy for each game-whoops!)
So I haven't really got into it-I'm still struggling to fit a lesson into one day.
But I do want to share an awesome math game that I used last year.
The kids loved it, and I was able to differentiate. (and I loved it too!)
Plus, it's free! (
and
it's one of Jivey's! Get it
here
!)
It's her Make One Whole Decimals game.
These are the supplies you need.
Base 10 blocks, dice, game boards (I laminated mine for reuseablity) and vis-a-vis markers
Here is the fun, differentiation part-different dice!
The kids
LOVED
this...especially as we moved up the difficulty of the dice! (Thanks Jivey!!!!)
Plus, there are tons of other free math games on TPT.
I like this waaaaaaay better than the grab and go centers...maybe I can sneak it in somewhere! ;)
Tuesday's Outfit
Sweater: Kohls
Tank: Target
Pants: JCP
Shoes: Payless
Smiles and Sunshine,
Kaitlyn