Hi everyone!
I have a couple of giveaways that I want to share with you...first up is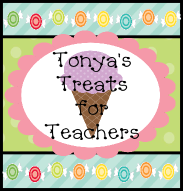 She is have a HUGE 600 follower giveaway and sale. There are 6 days of giveaways where 6 people can win each day. Today is day 1...Hurry! it ends soon!
Next up is:
She is having a "It's my birthday" giveaway with lots of awesome bundles!
Next topic: Shopping!
I went to JC Penny the other day, because I really needed some jeans and 'in between' shirts for work. Right now, I have warm weather shirts and cold weather shirts without much in between.
And even though I can't wear jeans to work, if I go out on weekends, I like to wear them then. (and I only had one pair that fit correctly and it is hemmed to heel height and I wanted flat height ones).
So after spending almost an hour of browsing and trying on, I came home with 1 pair of jeans and 3 tops...for under $80! (I'd put myself on a $100 limit for the month). Here are my purchases:
1 pair of jeans-petite, for flats, no hemming required :)
1 sweater
2 3/4 tops-good for dressy or casual wear
Have a happy Monday!
Smiles and Sunshine,
Kaitlyn