Hello!
I'm linking up with
Franish
and
Whitney
for their 5 Days, 5 Ways.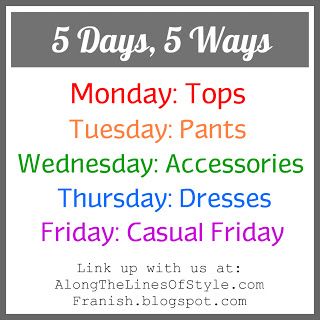 Up until last month, there was no such thing as Casual Friday at my school. My principal didn't (and probably still doesn't) believe that jeans are professional enough for us to wear.
However, he has recently allowed us to wear jeans on Friday (those days when we are actually in school and don't have a teacher workshop day or a snow day!) if we pay $2.
The money is being donated to one of the Sandy Hook Victims Funds-so it is going to a good cause.
Here are my Casual Friday Outfits! (The jeans are from JCP and the skirt is from Old Navy)
Comfortable, but still stylish and nice looking :)
Today's Outfit:
Sweater: The Limited
Shirt & Pants: JCP
Shoes: Amazon
Have a wonderful weekend! (and Hoppy Easter!)
Smiles and Sunshine,
Kaitlyn