Happy Reading Bloggy Buds!
I'm a part of the
Building Mathematical Comprehension
Book Study (by Laney Sammons) and my chapter is coming up!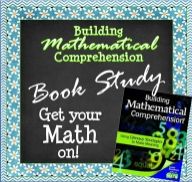 I thought I would share my thoughts on the first two chapters.
Chapter 1:
~The strategies we use for teaching reading should apply to ALL subjects-especially Math
~Good readers can be good mathematicians-
they use the same skills
~
We should be teaching Math the same way we teach Reading...the skills/strategies for learning are mirrored
~Need to explicitly model each new skill-going through the steps of introducing, explanation, practicing together and independent practice-
just like reading
~Comprehension strategies for reading should be thought of as
thinking strategies
, as they apply to all learning and content areas
~Just like reading, they are thinking strategies that are good for before, during and after when doing Math
~Use the 4 C's - Conception, Connection, Construction, Comprehension
Chapter 2:
~Vocab instruction is just as important in Math as it is in Reading
~Teach Math Vocab just as you would teach Reading Vocab
~Choosing which words to teach/know is important-there are 3 types: Words already in oral language vocab; Words not in oral language vocab-but are labels for concepts they
know
; Words not in oral language that are
new
concepts
~Make it fun!
~Journal writing helps reinforce vocab learning-as well as helping synthesize/retain info
~Word Walls are note just for Math!
~Graphic Organizers are not just for Reading!
~Games are great tools for learning/reviewing (can I just say: duh!)
Chapter 3 soon to come!
Smiles and Sunshine,
Kaitlyn