I'm linking up with
Joy in the Journey
and
Compassionate Teacher
for their Tricks on a Thursday Linky.
Today's Topic: Collecting and Returning Homework
(ignore the follow disaster on the desk please :)
I have an 'in bin' on my desk specifically for homework.The kids know that all homework goes right in here.
Last year, I had one bin for both homework and classwork-but I found it got too full too quickly and things were all mixed together.
By separating them, things are less mixed, it gets full less quickly and when I only want to grade a certain thing, I know which bin to pull from.
After pulling out the homework, I separate it into piles.
Separated by homework type
Then, I organize each pile by their # order-which they are supposed to put on their papers, but usually forget :) Doesn't matter-I have them all memorized ;)
Nicely stacked and organized...Ready to Grade!
After that, I pull out my grading pens
Bic Flair Pens-I love all the colors!
and grade away!
I try to grade a couple times a week-and if I have the time that day, I'll grade it that day.
To return homework (after I enter the grades), I put it in their mailboxes.
Mailboxes!
Each student has one, and they are numbered on the inside.
An easy system that keeps me organized!
Next year, I'm thinking of adding an initial/sign-in sheet by the homework bin...too often I hear that "But I turned it in!" My response is well I don't have it. This will keep them more accountable.
I'll be back tomorrow with the winner of my giveaway! Thanks to the bloggers that helped me out :) and to all of you that entered!!!
Wednesday's Outfit
Shirt: Kohls
Skirt: Target
Shoes: DSW
Linking up with:
Mix and Match Fashion Wear to Work
Linky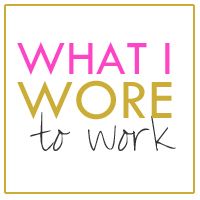 Smiles and Sunshine,
Kaitlyn